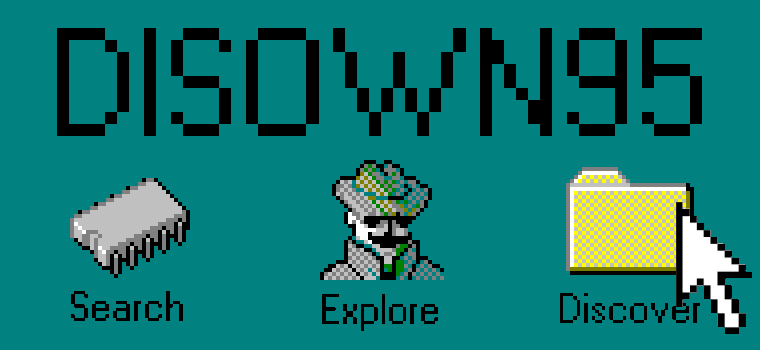 DISOWN95

"My dad passed away a few years ago. It doesn't bother me much.
I inherited his old computer. It's been in police custody since
his passing, and has finally been released to me.
It might hold some answers to what happened to him."
Explore your dads old computer in DISOWN95. Use the real world internet
to find and connect the clues to find out what happened to him.
Remember to use Google if you're stuck! If you're really stuck - you can check out the walkthrough here!
Created for Brackeys Game Jam 2022,
with the theme "It is not real"
Download
Click download now to get access to the following files:
Disown95 WINDOWS.zip
9 MB
Comments
Log in with itch.io to leave a comment.
i did load diary and nothing happen
Very intriguing so far, I just beat Mike's highscore before exploring most of the PC but now I'm trying to run the LOAD *"DIARY"* command on the command panel, and it just doesn't work. I'm not sure if I'm just supposed to press enter or something else but I'm stumped. May be my fault.
Hm, that's odd. That would work, and a new file should have appeared on the desktop. Are you sure it didn't? It might be easy to miss.
I couldn't recall any additional files appearing, and I most definitely checked twice! :( a bummer for me but I'm still interested in the story, so I might just try again soon!
hi!! I know this is from a bit ago but I'm having an issue on browser where after I put the password for the blog, nothing comes up (also Mac user) I love the concept of this and would love to be able to play it further!
Hm, I haven't been able to test it out on a Macintosh. The game should open a new tab, and direct you to a website. I haven't run into any issues with pop-up blockers, but that might be the problem. You can use this link here if you wish to keep playing.
Sorry for the inconvenience, thanks for checking out this game!
Hey! So glad you liked it! Made Mikes highscore stupid high, so you wouldn't accidentally beat it and erase his name! Kind of a dumb fix to a problem, now that I think about it.

Yes, exactly! He writes about something in the diary, that he will make a post about online. If you find it, you'll find the password to the Blog. Let me know if you need ant help!
Would love to check this out but currently having troubles figuring out how to maximize the screen. Any options in the future to allow a fullscreen mode? Currently using a 4k monitor and any options to make apps bigger is still quite small to be able to navigate through the game.
how do I 'LOAD ."DIARY".'?
stuck here
Hi! Open cmd.exe and type the command LOAD *"DIARY"*. The handwriting isn't the best, so it's easy to mistake the asterisk for a period.
Loved the aesthetic and the spooky skull up there. Very cool.
Really admire the aesthetic of this game, love the retro feel and uncanny nostalgic feeling it brings. Great work with it!
Hey :D

I don't know if your game is finished yet ;-) but should I be able to find the diary somehow?

Really like how the game feels so far.
Hey!
It is finished! Try to find his post online by doing a Google search. He mentions a word in capital letters in his diary that might yield in some results. I know it's a bit tricky, I'm trying to come up with a hint system. Thanks for playing, let me know if you need any help! I'll add a spoiler below! 👇🏻


SPOILER: search for winlose95 on google!